Description
No toxin and Aluminium salt! Long-lasting whole day
Australian natural and organic skin care brand Woohoo's hero product – Natural Deodorant & Anti-Chafe Stick (Wild) has an incredible super strong ability to eliminate body odor and can work all day long. Long-lasting neutral citrus fragrance, no artificial fragrance, free from toxins and aluminum salts. 100% natural and vegan, ensuring no controversial chemical ingredients. Deodorizes the body with 4 natural deodorant ingredients including Sodium Bicarbonate, Coconut Oil, Triethyl Citrate (Triethyl Citrate is natural and derived from citric acid that breaks down the bacteria that make you smell !Very efficient deodorizing) and zinc oxide. Use absorbent starches and clays to minimize humidity and stickiness. It is especially suitable for users who are very sweaty, such as athletes and residents in tropical areas. Both men and women praise it for its effectiveness and harmlessness!
It has been very popular since its launch in 2015, and recently it took 12 months to update and improve the formula, using the most environmentally friendly packaging (zero plastic, even biodegradable) in a cardboard tube. And a new function: anti-abrasion function designed for sensitive skin. If you experience friction, chafing and discomfort from skin contact or clothing contact, apply lightly to reduce friction and protect skin. The stick-shaped design is more convenient and quick to apply.

FINALIST BEST NATURAL DEODORANT - Beauty Shortlist Awards 2020

WINNER - Australian Non-Toxic Awards 2020 - Men's Personal Care - GOLD

The Made Safe accreditation is a Safe Cosmetics Australia certification that demonstrates our healthy ingredient philosophy and commitment to reducing toxicity.

The Toxic Free accreditation confirms that our creations are 100% free from any ingredient on the Safe Cosmetics Australia

 

toxic free hotlist.

The Allergy Certified accreditation means that we do not use any chemicals known to cause allergies in this formula (certified by Safe Cosmetics Australia).

Vegan

Australian made and owned

Not tested on animals

We're proud members of 1% for the Planet, donating 1% of our wholesale sales to helping the planet.

By supporting rePurpose Global to remove twice as much nature-bound plastic waste as our packaging creates, Woohoo Body is officially certified Plastic Negative.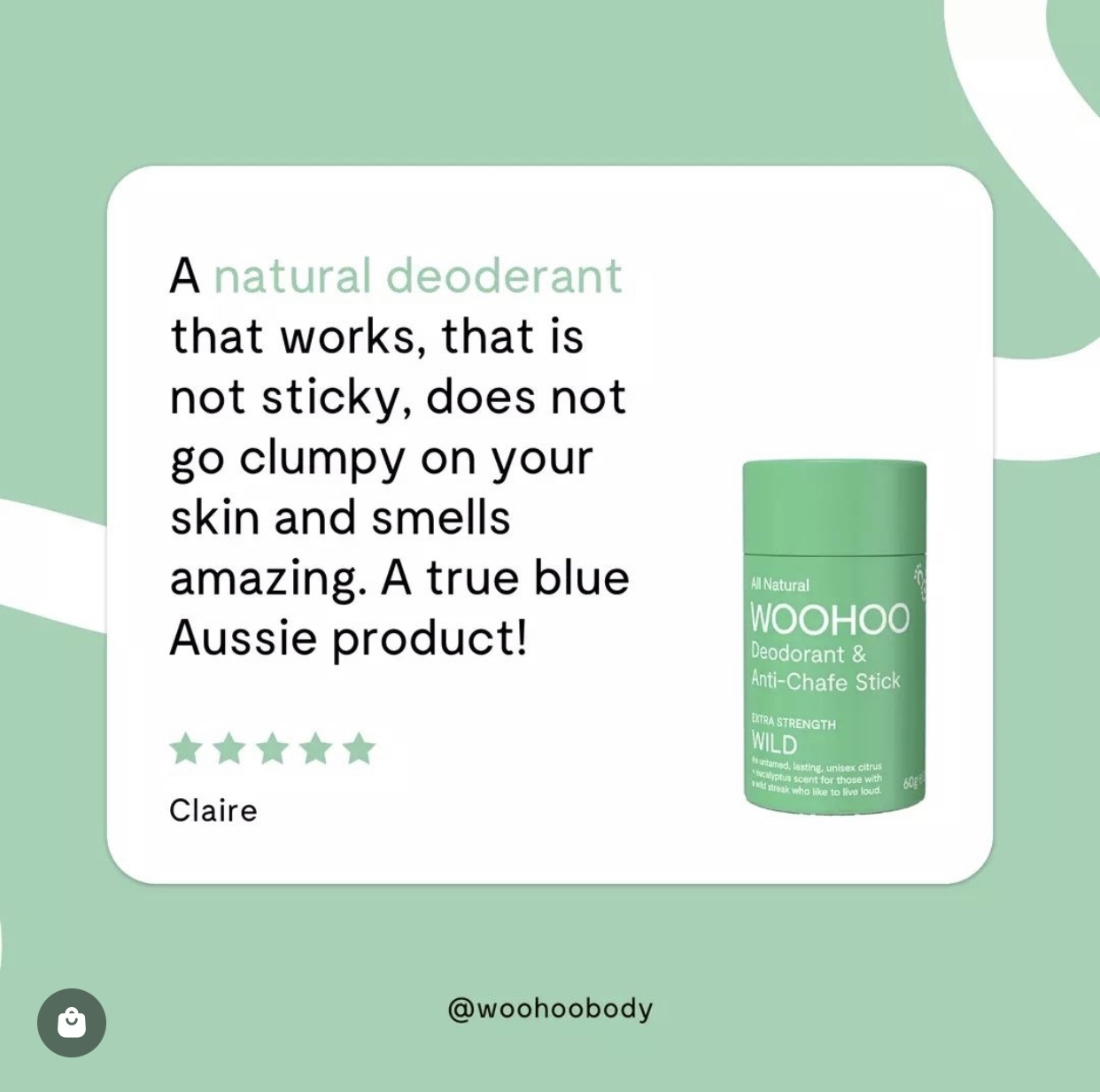 Skin types
Suitable for all skin types (Especially for sweaty user)
How to use
Remove the lid and push up gently from bottom of tube to expose 1-2mm of deodorant. Apply sparingly to your underarm & other sweaty or chafe-prone areas.
*Please remember that your Woohoo stick is perfectly imperfect - a small crack or hole is OK and won't affect performance :)
*Store below 30 degrees C away from direct sunlight & please stop use if irritation occurs.
another beauty Review and Tips
The aroma of bergamot and cedarwood is very fresh, made of all-natural ingredients. It is very refreshing when applied to the underarms. It is easy to use and carry, very convenient.
All ingredients
Caprylic/Capric Triglyceride, Sodium Bicarbonate, Cetearyl Alcohol, Cocos Nucifera (Coconut) Oil*, Euphorbia Cerifera Cera (Candelilla) Wax, Tapioca Starch*, Butyrospermum Parkii (Shea) Butter*, Kaolin, Triethyl Citrate, Silica (Amorphous - non-hazardous), Zinc Oxide, Tocopherol (Vitamin E), Eucalyptus Radiata (Eucalyptus) Leaf Oil, Cedrus Atlantica Wood (Cedarwood Atlas) Oil, Melaleuca Teretifolia (Honey Myrtle) Oil, Myroxylon Balsamum (Peru Balsam) Oil. Naturally occurring in essential oils Limonene, Geraniol, Benzyl Alcohol, Benzyl cinnamate, Benzyl Benzoate. *Certified Organic Ingredient
Vegan|No Animal Test & derivatives|No synthetic fragrances|No sulphates(SLS)|No artificial colours|No Mineral oil|No aluminium salts|No Bleach|No propylene glycol|No triclosan|No triethanolamine (TEA)|No harsh Detegents|No Paraben
100% Natural
Capacity: 60g
Origin: Australia