只要來過小盒子
大概也會接觸過店主Kat & 店主Ming
每位客人都會親自接待
用心地為客人解決皮膚問題
因為❤️我們真的很喜歡天然護膚
曾經2位店主都經歷皮膚問題困擾多年
尋遍各種kol/ 明星推介產品/昂貴的護膚品
也試過不同的護膚偏方…
肌斷食、牙膏搽暗瘡、撒龍巴斯貼暗瘡🤦🏻‍♀️
更有刺激性的美容療程… 果酸煥膚、海藻矽針、pico、微針、幹細胞針…
但皮膚狀態一直都大上大落
總會突發性地爆發 敏感、暗瘡,轉季更是可怕
直至幾年前完全回歸天然
投入clean beauty的懷抱✨
慳左好多錢 不再做機 不再買專櫃護膚品
慢慢皮膚問題竟一一消失,太神奇了!
原來護膚品成分天然是那麼重要
也是我們皮膚最想吸收到的養分
護膚品絕對不是價錢愈貴就愈好
平價的天然小品牌 竟然用心去追求質量
100%植物養分?每一件也人手製造?
這個機器年代原來還有職人精神
我們總是為此驚嘆
起初就是單純想將積累的護膚心得
還有天然又有效的美肌好東西
完完整整地分享給其他女生
本著這份初心
another beauty 就在於2019年成立了
3年以來 成功為過千客人解決皮膚問題
更意想不到2021年得到香港零售管理協會
頒發🏆十大O2O 零售品牌
一切是來自客人的信任 感謝您們
很多客人 已慢慢變得朋友般關係
疫情間 總是互相問侯關心 互相扶持
很喜歡與大家的相處
我們的初心會努力堅守
為大家不斷引入優質的天然小眾精品
分享美麗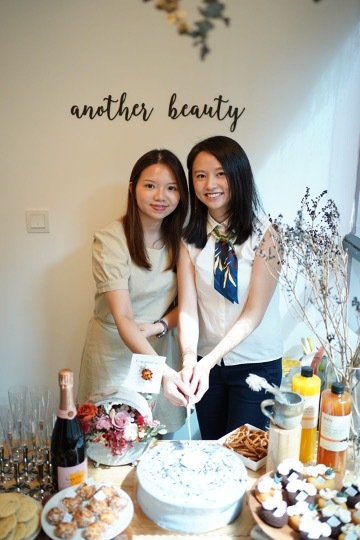 (攝於2019年7月13日 another beauty 小盒子grand openning party)
_________
🔅How we start another beauty?
You may easily find our founders Kat or Ming at Little Box, they would love to share with you their beauty tips and help you on different skin concerns.
Both Kat & Ming used to be super sensitive skin, and suffered from extremely skin allergies all the time. Until they met clean beauty, this is definitely a life-changing point for them to recover from bad skin condition.
Our team truly loves being able to share clean beauty product with Hong Kong customers. Since launching in 2019, we have handled over thousands of cases, and even won the 🏆 HKRMA O2O Top 10 Brand Award in 2021. We has such grown because of you, our wonderful customers.
You deserve to feel good about your skin like us!